Our New Friend Gabby
GABBY NEEDS A MOBILITY CHAIR.
The chair costs $899.00. Will you help purchase a chair for Gabby?
______________________________________________________________________________________
WE HAVE PARTNERED WITH FOOD4LESS AND RALPHS GROCERY CHAINS!
click on the Food4Less or Ralphs icon to learn more
____________________________________________________________
Friends of Treasure is a 501(c)(3) Non-Profit Organization that was founded by Treasure's mom in 2010. Treasure and her family have experienced so much loss and an endless amount of love and kindness during their now 7 year battle.Treasure's mom wanted to be able to help other individuals who suffer from these rare tumors categorized as Vascular Malformations. These occur in less than 1% of the population and can have life altering effects.
The organization has partnered with Ben's Friend's to help all children and their famililes who suffer from rare diseases.
Treasure was diagnosed with her tumor at the age of 5. Treasure has been featured on Fox 11 news and the local newspapers as they followed her story for more than 6 years.
On 8-31-2010 Treasure had her last of 12 surgeries and now helps the foundation.
THE STARFISH STORY
At Friends of Treasure, we identify ourselves with the starfish. Why? In 2006 Treasure became her school principle's (Mr. Rudd) STARFISH. Read the story below.
The old man awoke just before sunrise, as he often did, to walk by the ocean's edge and greet the new day. As he moved through the morning dawn, he focused on a faint, far away motion.
He saw a youth, bending and reaching and flailing arms, dancing on the beach, no doubt in celebration of the perfect day soon to begin. As he approached, he realized that the youth was not dancing to the bay, but rather bending to sift through the debris left by the night's tide, stopping now and then to pick up starfish and then standing, to heave it back into the sea.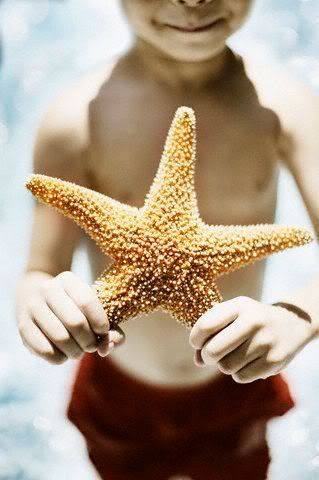 As the youth explained, the old man surveyed the vast expanse of beach, stretching in both directions beyond eyesight. Starfish littered the shore in numbers beyond calculation. The hopelessness of the youth's plan became clear and the old man countered, "But there are more starfish on this beach than you can ever save before the sun is up. Surely you cannot expect to make a difference.
The youth paused briefly to consider the old man's words, bent to pick up a starfish and threw it as far as possible. Turning to the old man, he said...
"I made a difference to that one!"
This story has been circulated around the web in many versions, usually with no mention of author. It is said to be paraphrased from "The Star Thrower" by Loren Eiseley, 1907 - 1977.
Thank you for making a difference for Treasure and all of our new friends!
If you are in need of aid please contact us: donations@friendsoftreasure.com